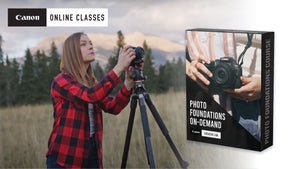 Flexible, On-Demand Learning that you can access at any time!
Learn at your own pace, on your own schedule with this On-Demand video course. 
Your On-Demand Course is going to teach you all the fundamentals of your new EOS R system camera. This 7-part course is brought to you by Canon Online Class instructors Colin Dougan and Colleen Gara. They'll be covering everything you need to know about Aperture, ISO, Shutter Speed, and MORE! Plus, you'll get access to a series of Photo Challenges so you can start to apply the course learnings to growing your skills as a creator!
After the videos, you'll be ready to go out and create incredible photos and videos with your new Canon gear.
---
Free Mini-Lesson: Intro to Shutter Speed
Taken from Photo Foundations On Demand, this mini lesson will introduce you to the skills you need to capture motion and to play with time as a photographer. 
Capture sporting events, concerts, wildlife, and more, with guidance from established professional wildlife photographer and Canon Classes instructor, Colleen Gara. In this free, four minute mini lesson, Colleen guides you through a series of professional tips and tricks to master the art shutter speed, including:
Accessing where the shutter priority mode is on your camera

Learn how to change your shutter speed

Understand how to use the shutter priority settings on your camera in different contexts.

Focusing on freezing action, slowing down time, and capturing motion in different contexts.
Dive into the full course to access other lessons like this. And, you'll be able to test your new skills by trying out the Photo Challenges that come with each lesson.