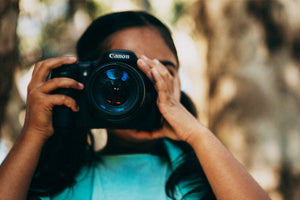 Limited spots available. Don't wait to secure your spot!
During five-weeks of photography training, students learn foundational photo-taking techniques and fascinating professional concepts, to boost their creativity and take captivating portraits of their loved ones. This course is perfect for beginners!
Small group sizes of up to 10 students allow the instructors to provide personalized attention and feedback to make sure that you are getting the instruction you need to truly get the most out of Camp Canon.
Each session will start with a 60-minute interactive Zoom where our expert instructors will inspire students, give 1-on-1 feedback, and share tips & tricks. Students will then complete an associated 1-2 hour photo tutorial from the safety of their home and on their own time consisting of portraits, nature photos and more. Pets, partners and friends are great subjects to practice taking incredible portraits!