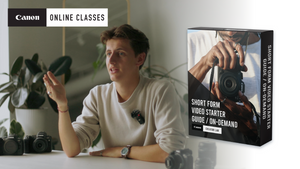 Flexible, On-Demand Learning that you can access at any time!
Learn at your own pace and on your own schedule with this On-Demand video course. 
The Short Form Video Starter Guide is going to teach you how to create high quality short form video content. This 8-part on-demand course is brought to you by expert Canon instructors Elliott Chau, Max Grover, and Justin Choquette. Whether you want to learn to become a great storyteller using short form video, or you want to use short form video content to grow a business, or a personal brand, this on-demand video course will show you everything you need to know by guiding you through the following topics:
Module 1 – Understanding the Basics
Module 2 – Maximising Your Gear
Module 3 – Ideation + Planning Your Shoot
Module 4 – Storytelling with Short-Form Video
Module 5 – On Camera Confidence
Module 6 – Editing Principles
Module 7 – The Business of Brand Building with Short-Form Video
Module 8 – Getting Visible with Short-Form Video Content

 
Each module comes with a video lesson that is jam-packed with best practices and actionable tips, plus you'll get access to a series of video challenges so you can start to apply the course learnings to growing your skills with short form video. 
Within 48 hours after you register, you'll receive a follow up email with access to all of the course materials so you can begin your journey toward creating great short form videos!
---
 Free Mini-Lesson: Intro to Short Form Video
Taken from the Short-Form Video Starter Guide On Demand course, this mini lesson will introduce you to the basics of getting started with short-form video. 
Learn about the various platforms where short-form, vertical video is super popular, and why audiences are now craving bite-sized, relatable, video content. In this video, Max guides you through a series of professional best practices to start your journey with short-form video, including:
Understanding the relationship between trending audios and going viral with your short-form video content. 

New composition techniques to work within a vertical frame. 
Dive into the full course to access other lessons like this. And, you'll be able to test your new skills by trying out the Video Challenges that come with the lessons.