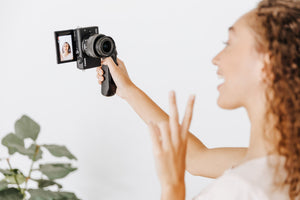 LIMITED SPOTS AVAILABLE
This five-session video production program helps teens realize their aspirations to become YouTube fixtures by teaching them how to produce, edit and publish YouTube videos. They also will learn how to create the perfect production setup for their videos.
Small group sizes of up to 10 creatives interested in building their skills with video production allow the instructor to provide personalized attention and feedback to make sure you are getting the instruction you need to truly get the most out of your Canon Online Classes experience. Each workshop session will start with a 60-minute interactive Zoom lesson where your expert instructor will share inspiring examples and introduce key concepts to support your creative journey. This will be complemented by 1 on 1 feedback, along with additional tricks of the trade. During your online learning experience, you'll complete a series of video challenges & tutorials to apply the course learnings to growing your skills The course will culminate with the end-to-end production of your first polished video!

*Limit of one rebate per creative