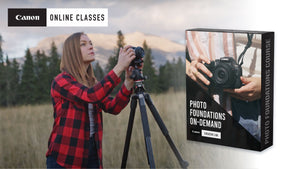 Flexible, On-Demand Learning that you can access at any time!
Learn at your own pace, on your own schedule with this On-Demand video course. 
The On-Demand Course is going to teach you all the fundamentals of your new EOS R system camera. This 7-part course is brought to you by Canon Online Class instructors Colin Dougan and Colleen Gara. They'll be covering everything you need to know about Aperture, ISO, Shutter Speed, and MORE! And, you'll have access to Photo Challenges! These Photo Challenges will prompt you to take action to apply the new skills you have learned.
Plus, get personalized support with a 1-1 coaching session! You can use your 1-1 coaching session to ask questions about the course material, and/or to get feedback on the photo challenges that you complete as part of the learning experience.
After you purchase your On Demand Course + 1-1 Coaching package, you'll be sent a list of our coaching roster + booking information so you can book your 1-1 coaching session.