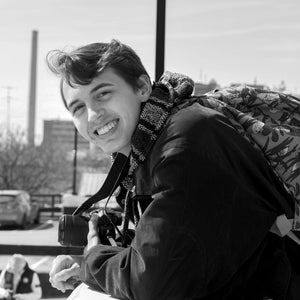 Topics: Architecture, Landscape, Street Photography, Events, Business of Photography.
Jesse Bostick is a Toronto-based photographer specializing in architecture and landscape photography. He is passionate about utilizing leading lines and symmetry to elevate the aesthetic appeal of his work. Jesse is inspired by the work of Ansel Adams and Berenice Abbott because of the apparent simplicity but immense technical skill that is seen in much of their work. He is enthusiastic about sharing his love of image-making with up-and-coming photographers
Lead Time:
The latest you can book a session is 1 week prior to the event.
You will receive a booking link within 48hrs of purchase.
Method of Delivery:
Availability:
Monday and Friday Mornings

Tuesday and Thursday Evenings 

Weekends
Who is it for?
If you are looking to develop your image making skills while pushing the boundaries of your interpretation of our natural and man made environment, this is the coaching session for you! These sessions are for anyone looking to explore the world around them and depict it in ways no one could have imagined.
What do I get out of it?
In these sessions you will have the opportunity to build upon your curiosity of the world by sharing it with others and learning how to effectively portray conceptual ideas in a visual manner.
*The display of any hyperlink and reference to any third party website does not constitute an endorsement of such third party's website (including any opinions or statements made or endorsed by third parties therein) products or services.